BLOMENDAHL
Winery and Distillery
Our Gallery
Blomendahl Rum in the Seychelles
October 2019
Introducing Blomendahl Rum in the Seychelles, along with the award winning Blomendahl Spirit Range.
Best Vodka Certificate
October 2019
Benedikt and FJ Blomendahl proudly receiving the cetificate for the Best Vodka.
Michelangelo Awards Evening
October 2019
Benedikt Blomendahl receiving a Platium Award for Blomendahl's Botanical Gin and the Trophy for Best Vodka for Blomendahl Vodka.
Michelangelo Trophy Winners
October 2019
Benedikt and FJ Blomendahl in the Michelangelo Trophy Winners group photo.
Malt Whisky Trail
September 2018
The Blomendahl Family finds inspiration for the, soon to be released, Blomendahl Whisky on the Malt Whisky Trail in Scotland.
Blomendahl Spirits Tasting
March 2018
A fine tasting of our brand new range of Blomendahl Spirits with very positve feedback.
New Grapes Arriving
February 2018
The wine harvest arrived at the Blomendahl cellar on our farm, Basco.
Wine Tasting
December 2017
A lovely wine tasting in the beautiful wine cellar of the Basco farm.
Investec Golf Tournament
November 2017
The promotion of Alter Schwede and our various cocktails and a lucky draw for an Alter Schwede Gift Box at the Investec Golf Tournament.
Sanlam Hand Craft Exhibition in Joburg
October 2016
The introduction of the unique herb liqueur, Alter Schwede, at the Sanlam Hand Craft Exhibition in Joburg.
Whisky Distilling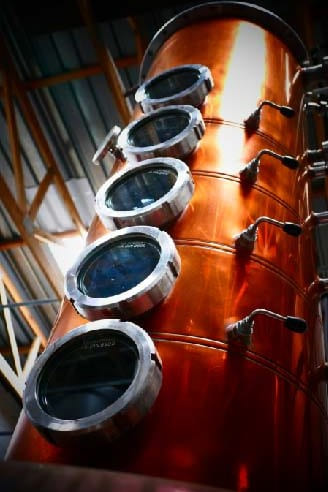 June 2016
The first barrel of Whisky was distilled in this Kothe Copper Pot Still.
Wine Show Namibia
May 2009
FJ Blomendahl at a wine show in Namibia with Miss Namibia.